Helping Electric-Wheelchair Users Move more Easily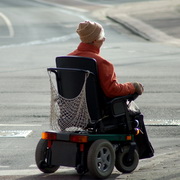 Researchers want to help people
using electric wheelchairs to
maneuver more safely;
&copy Otmar Smit/panthermedia.net
Researchers are working on technology that will enable electric-powered wheelchairs to detect hazardous terrain and automatically adjust their control settings to maneuver more safely.
Emmanuel Collins is the John H. Seely Professor of Mechanical Engineering at the college and director of Florida State's Center for Intelligent Systems, Control and Robotics (CISCOR). He said that a device known as a laser line striper, originally developed for military use, has been adapted to classify terrain conditions so the wheelchair control system can self-adjust.
"I'm inspired by the idea of applying technology originally meant for the battlefield to improve the quality of everyday life for injured soldiers and others," Collins said.
Collins' team, working with colleagues from the University of Pittsburgh, began experiments to add instrumentation based on current driving control systems. The new technology is designed to enable an electric-powered wheelchair to detect hazardous terrain and implement safe driving strategies while avoiding wheel slip, sinkage or vehicle tipping.
The U.S. Army Medical Research and Materiel Command's Telemedicine and Advanced Technology Research Center saw the promise in this collaboration and has provided funding and guidance for the researchers to pursue their ideas together. The partnership joins CISCOR, which has worked extensively with control and guidance of autonomous vehicles, with the University of Pittsburgh's Human Engineering Research Laboratories. The latter group has developed several assistive technologies already in use by wheelchair manufacturers and rehabilitation hospitals nationwide.
The partnership began when Collins heard a presentation by Professor Rory Cooper, director of the Human Engineering Research Laboratories and chairman of Pitt's rehabilitation science and technology department. Cooper has used a wheelchair since receiving a spinal cord injury in 1980 during his service in the Army. He won a bronze medal in the 1988 Paralympic Games in Seoul and has been recognized nationally for his research and leadership efforts to aid veterans and others with spinal cord injuries.
In his presentation, Cooper mentioned the need for terrain-dependent, electric-powered wheelchair assistance. Collins approached him about working together, and the two of them began developing ideas with other collaborators at the National Science Foundation-sponsored Quality of Life Technology Center, an engineering research center affiliated with the Human Engineering Research Laboratories that Cooper co-directs.
Collins estimated that if the team develops a strong commercial partner, the technology could be assisting electric wheelchair users in approximately five years.
REHACARE.de; Source: Florida State University

-

More about the Florida State University at www.fsu.edu